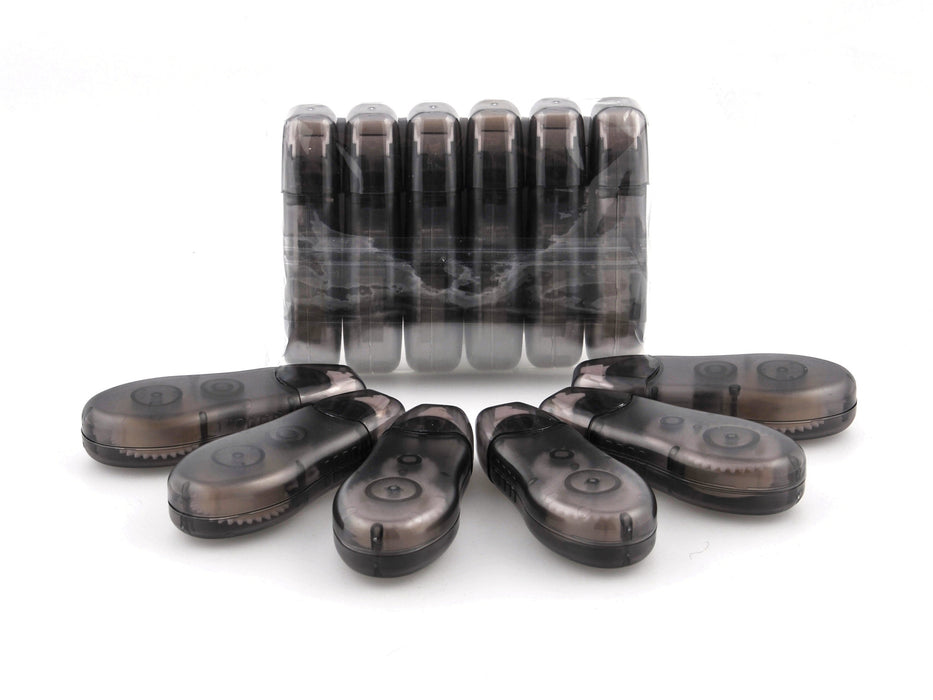 24 x Permanent Double Sided Adhesive Tape Roller Pens - 240 metres
Mess free double sided adhesive dispenser. Supplied with a ribbed top section to quickly identify which way to hold the pen. Hold the pen with your forefinger on the ridged top and draw back towards you to dispense adhesive.
Acid Free adhesive on a 10 metre clear roll. This pack is supplied with simple instructions on how to use these pens. Each pen has a cap to prevent the adhesive from drying out, giving perfect results with each use
24 pens included, each pens' adhesive is 10m long x 8mm wide. Wrapped in 6's as per the photos.
Permanent adhesion in an easy to use dispenser, these pens have many uses, including card and envelope making, product and box labelling, labels on glass or plastic jars, photo mounts, wrapper sealer, parcel closure, covering books etc.
Used by card makers, online sellers for mail labels, estate agents, photo booths, bottle labellers, DVD / CD producers, printers, stationers, florists, parcel wrappers, schools & colleges and more
CraftPrice tape roller pens in a transparent black casing, each contain 10 metres x 8mm double-sided adhesive tape in a convenient mess free dispenser. Each pen has its own cap to stop the glue drying out, unlike alternative offers where more metres of glue does not always mean more usable tape.

They distribute adhesive lightly and gently with precise positioning. Each pen has a ribbed top (visible in the photograph images) to identify easily and quickly, the correct way to hold it before applying to your project.

The tape roller pens are acid free and are sold complete with instructions and guidance for use. These pens are perfect for beginners or experienced crafters for craft or other paper projects that require double sided adhesion.

This versatile tape pen can also be used by Amazon and ebay sellers to label packages with normal A4 paper rather than buying adhesive shipping labels.

In terms of price these pens are just as effective as those at more than double the price. Why pay more?

Further evidence of CraftPrice tape pen popularity, appeal and effectiveness is the high level of customer multiple purchases over the last 3 years.
A great product at a great price. We are sure you will love these pens and if so, please leave a review so that other potential buyers can make an informed choice.
Remember to 
download
 your free instructions if you are a new user