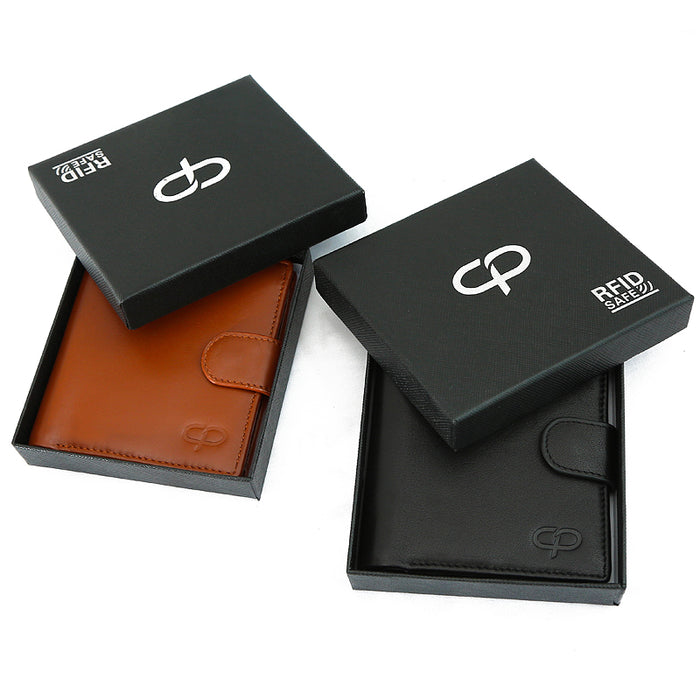 CP RFID Blocking Real Leather Mens Wallet (TAN HIDE)
•RFID protection, soft touch real calfskin leather wallet holding up to 12 Credit/Debit cards in their own compartment. Bifold flaps open inside out to present 6 cards on the outer wall and 6 cards on the inner wall.

•2 Clear window slots for ID card, photo, access card or Driving licence, with 2 Large slip-in pockets for additional cards and receipts.

•2 Full-length banknote compartments hold GBP, Euros, US Dollars or Renminbi comfortably.

•Size: 11cm x 10cm x 2cm [empty], closed and approx. 3cm thick with all card slots filled, excluding notes. This quality leather wallet is made with care and attention to detail.
High quality CraftPrice® Men's leather wallet. - Made with fine soft calfskin 100% Leather and completed with a premium finish.
This wallet is equipped with RFID (Radio Frequency Identification) blocking technology and protects your identity and credit card information against unauthorised scans of your smart credit/debit cards.
In total, there are 19 compartments in this wallet:<> 12 card compartments - The wallet can hold up to 12 Credit / Debit cards in allocated compartments or up to 3 business cards per compartment, dependent on card thickness.
2 notes / receipts compartments behind the inner card compartments.
2 Clear window slots for an ID card, access card, photo or Driving licence. 2
Full-length Banknote compartments, large enough to carry any major currency notes without folding, including GB pounds (£), US Dollars ($), Euros (€) and Renminbi (¥)
Size: 12cm x 9.5cm x 2cm empty and up to 3cm thick with all card slots filled.
Each CraftPrice® wallet is wrapped in stylish tissue-type paper, with card blanks in each card slot and is presented in a smart black branded gift box.
We offer a 30 day peace of mind money back guarantee on this wallet. Please note that all brand new wallets have tight card slots on first use, but they ease up with continued use.